Posted on: 03, 20, 2022
By : admin
Categories : Announcements
Comments Off

on Children's Hospital Colorado 12th Annual Neonatal Advanced Practice Conference – VIRTUAL
Join Children's Hospital Colorado and FRANN on Thursday, June 23rd, 20222 for our 12th Annual Neonatal Advanced Practice Conference (VIRTUAL). This conference will be of interest to RNs, NNPs, and other neonatal care providers.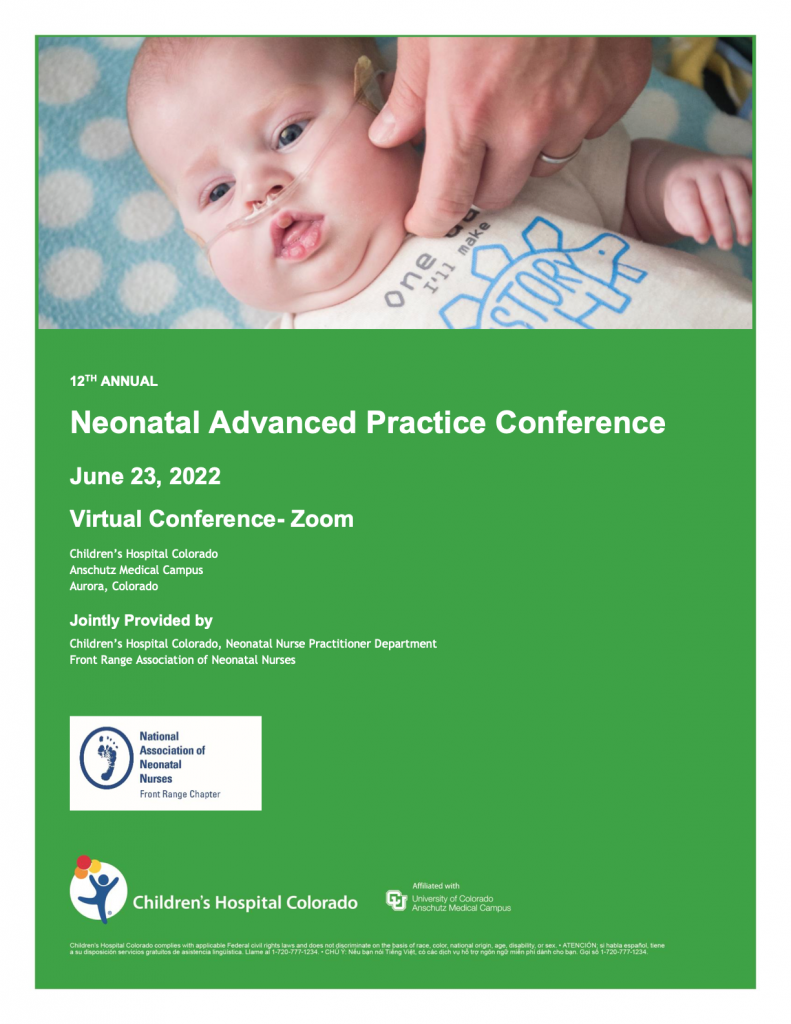 Learning Objectives
Identify the risks and benefits associated with sedative medications commonly used in neonates.
Describe the qualification criteria and goals for the SPROUT clinical team, including the published evidence behind certain approaches of care.
Review the basic indicators of sex trafficking while exploring opportunities for intervention based on The Avery Center's survivor-led research.
Discuss limitations of hemoglobin as a surrogate for tissue oxygenation and trigger for RBC transfusion.
Describe an ethical framework for shared decision making between providers and parents of children with Trisomy 13 and Trisomy 18 in the NICU.
Articulate strategies for working through disagreements with the parents of critically ill newborns.
Recognize the risks to babies and mothers of COVID-19 disease.
Describe three evidence-based outcomes from NICU music therapy interventions for patients, families, and/or staff.